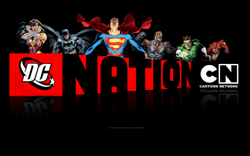 DC Nation is a Cartoon Network programming block dedicated to DC Comics, starting on March 3, 2012. It will air every Saturday and will repeat every Sunday. The block will feature new episodes of Young Justice, the official debut of Green Lantern: The Animated Series, and a series of DC Shorts.
DC Shorts
Edit
Sam Register, Vice President of Creative Affairs at Warner Bros. Animation, has promised new DC shorts will air every week. Confirmed shorts include;
Plastic Man: shorts based on the pilot "Puddle Trouble" developed by Tom Kenny, Stephen DeStefano, and Andy Suriano.
DC's World Funnest: a claymation cartoon about Batman and various DC characters by Aardman Animations.
Batman of Shanghai: Shorts about Batman, Bane and Catwoman reimagined in 1930's Shanghai
Blue Beetle: live-action mini-series starring Garrett Plotkin.
New Teen Titans: a follow-up to the 2003-2006 animated series.
The Doom Patrol: shorts with the Earth's strangest heroes, the Doom Patrol.
Super Best Friends Forever: shorts with Supergirl, Batgirl and Wonder Girl.
Gotham City Imposters: based on the 2012 game of the same name.
Lego Batman: adventures set in the reality of the Lego Batman video games.
Amethyst, Princess of Gemworld
Wonder Woman
Thunder and Lightning : The daughters of Black Lightning.
Doctor Fate
Vibe
Sword of the Atom: shorts based on the Teaser from "Batman: The Brave and The Bold.
Shade the Changing Man
MAD Presents: pre-existing shorts developed for MAD about DC Heroes
Justice League of Animals
Superman of Tokyo: shorts featuring a baby Superman born in Tokyo
Animal Man
It has also been confirmed that DC Nation will feature documentaries conducted by fans and creators of DC Comics.