Superman
Vital statistics
"

Real name

Kal-El
"

Alias

Superman
Age (2010)
33

Age (2016)

38
Species
Kryptonian

Other info
Physical description
Gender
Male
"

Hair color

Black
"

Eye color

Blue
Relationships
Relatives
Superboy (partial clone)

Match (clone)

Affiliation
Justice League
Powers and abilities
Powers
Super Strength

Invulnerability

Flight

Super Speed

Super Hearing

Heat Vision

X-ray Vision

Infrared Vision

Telescopic Vision

Microscopic Vision

Weaknesses
Kryptonite

Production details
"

Voiced by

Nolan North
Superman (real name Kal-El (Kryptonian), alter-ego Clark Kent) is the Kryptonian superhero from Metropolis, and is a founding member of the Justice League.
Physical Appearance
Edit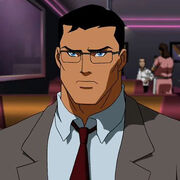 Superman is a tall and muscular Caucasian male with blue eyes and short black hair with a curl. He usually wears glasses. As Superman he wears a blue uniform, with the red a yellow S shield in his chest,red trunks, a yellow belt, and a red cape.
Superman began his crime fighting career at the age of 21. While starting out, he became an enemy of Lex Luthor, who believed Superman was nothing but a menace. He was one of the founding members of the Justice League.