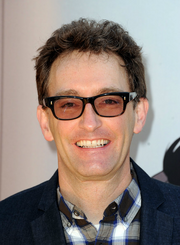 Thomas James "Tom" Kenny (born July 13, 1962) is an American actor, voice actor, singer, and comedian. He is known for his long-running-role as SpongeBob SquarePants in the television series of the same name, as well as the live-action character Patchy the Pirate, Gary the Snail and the French narrator based on Jacques Cousteau. He is Heffer Wolfe, and various other characters in Rocko's Modern Life, the Mayor and narrator from Cartoon Network's The Powerpuff Girls, ScoutMaster Lumpus and Slinkman from Camp Lazlo, and recently Ice King, Gunter and various other characters from Adventure. He also voiced Plastic Man and other characters from Batman: The Brave and the Bold and currently reprising his role as Plastic Man in the series of DC nation shorts of the same name.
External links
Edit
Ad blocker interference detected!
Wikia is a free-to-use site that makes money from advertising. We have a modified experience for viewers using ad blockers

Wikia is not accessible if you've made further modifications. Remove the custom ad blocker rule(s) and the page will load as expected.